Spinal Decompression Therapy
Spinal decompression therapy is FDA cleared, non-surgical and high tech form of traction. It is highly successful designed to unload the spinal disc to relief of back and leg pain or neck and arm pain.
Spinal Decompression Therapy is an effective treatment for:
• Herniated/ Protruding/ Bulging Disc
• Degenerative Disc
• Facet Joint Syndrome
• Sciatica
• Post-surgical Patients
• Spinal Stenosis
• Spondylosis
• Non-Acute (< 1 week) low back or neck pain
• Back pain after failed surgery
Clinical studies verify the significant reduction of internal disc pressures which result in the non-surgical traction of the disc and nerve root. Older, conventional traction has never demonstrated a reduction of this internal disc pressure; on the contrary – many older traction devices actually increased internal disc pressure, most likely due to reflex muscle spasm.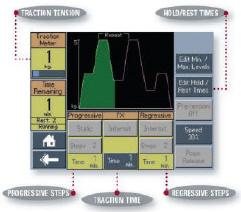 Our new computer controlled DTS Triton spinal traction equipment is designed to apply distraction and decompression to the patient's spine without producing reflex paravertebral muscle contractions.
By significantly reducing internal disc pressure, DTS Triton spinal traction promotes retraction of the herniation back into the disc and promotes intake of fluids, oxygen and other substances necessary for healing the disc. This activity stimulates repair and inhibits leakage of materials from the nucleus of the disc. Thus, results in a significant pain reduction.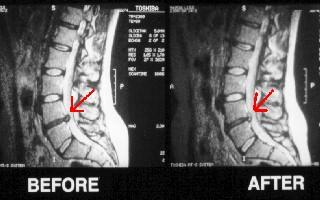 The most recent research trial sought to correlate clinical success with MRI evidence of disc repair as a result of such treatment and found that reduction of disc herniation ranged between 10% and 90% depending on the number of sessions performed, while disc annulus healing was evident in all cases.
The most recent clinical study of 219 patients has shown that this type of non-surgical therapy, provided nearly immediate resolution of symptoms for 86% of the participants, and 84% remained pain-free 90 days after the treatment was finished.
Treatment Duration/Frequency required:
---
Decompression will create a relatively quick initial response. Patients who will do well tend to feel a sense of relief within 6 sessions. Full relief will usually be in 8-12 sessions. (Occasionally a 'stubborn' pain syndrome may continue to improve slowly over 15+ sessions though this is not the norm).
Often patients will be treated 4-6 sessions and notice enough relief to allow active rehab to begin. Typical frequency is 3-5 times per week. The extent and seriousness of the symptoms will determine if >3 sessions per week should be utilized.
What Are The Treatments Like?
---
After lying on the comfortable DTS Triton spinal treatment table, you will be fitted with a support system. DTS Triton spinal traction computer system simulates an anti-gravity effect on your spine that helps herniated material return toward its normal position thus reducing pressure and pain. The distractive forces utilize a computer controlled logarithmic curve to avoid reflex responses which would create muscle spasm. The split table design decreases friction and allows mobilization of the vertebra.
Patients describe the treatment as a gentle, painless, intermittent pulling sensation.

COMPARISON

SURGERY

SPINAL DECOMPRESSION THERAPY


Benefits

In some cases surgery is necessary, more often it is not necessary.
Another 6-8 weeks of physiotherapy, at 3 to 5 times per week.

Relief of acute or chronic (long term) neck/low back pain and /or associated leg pain or numbness/weakness, generally within 4 weeks.

Success Rate

Lower rate of success, dependent

Proven success in 75% to 85%

Risks

• Pain
• Increased danger from anesthetic
• Increased danger from possible infections
• Possible post operation complications
(eg pneumonia, DVT, delayed union/ nonunion, spinal cord injury)
• Noticeable scars

• Non-invasive
• Extremely Safe
• No knives
• No drugs
• No injections
• No infection
• No hospitalization

Return to work

Prolonged recovery time, generally 6 to 8 weeks

Early return to work, within 4 weeks
SPINAL DECOMPRESSION THERAPY RESEARCH
"Serial MRI of 20 patients treated with the decompression table shows in our study up to 90% reduction of subligamentous nucleus herniation in 10 of 14. Some rehydration occurs detected by T2 and proton density signal increase. Torn annulus repair is seen in all." Eyerman, Edward MD. Simple pelvic traction gives inconsistent relief to herniated lumbar disc sufferers. Journal of Neuroimaging. Paper presented to the American Society of Neuroimaging, Orlando, Florida 2-26-98.
"Eighty-six percent of ruptured intervertebral disc patients achieved 'good' (50-89% improvement) to 'excellent' (90-100% improvement) results with decompression. Sciatica and back pain were relieved." "Of the facet arthrosis patients, 75% obtained 'good' to 'excellent' results with decompression." C. Norman Shealy, MD, PhD, and Vera Borgmeyer, RN, MA. Decompression, Reduction, and Stabilization of the Lumbar Spine: A Cost-Effective Treatment for Lumbosacral Pain. American Journal of Pain Management Vol. 7 No. 2 April 1997
"Results showed that 86% of the 219 patients who completed the therapy reported immediate resolution of symptoms, while 84% remained pain-free 90 days post-treatment. Physical examination findings showed improvement in 92% of the 219 patients, and remained intact in 89% of these patients 90 days after treatment." Gionis, Thomas MD; Groteke, Eric DC. Surgical Alternatives: Spinal Decompression. Orthopedic Technology Review. 2003; 6 (5).
"All but two of the patients in the study improved at least 30% or more in the first 3 weeks." "Utilizing the outcome measures, this form of decompression reduces symptoms and improves activities of daily living." Bruce Gundersen, DC, FACO; Michael Henrie, MS II, Josh Christensen, DC. A Clinical Trial on Non-Surgical Spinal Decompression Using Vertebral Axial Distraction Delivered by a Computerized Traction Device. The Academy of Chiropractic Orthopedists, Quarterly Journal of ACO, June 2004
Expert Author:
Michelle Kwong, Physioclinic
---
Further Reading

The article above is meant to provide general information and does not replace a doctor's consultation.
Please see your doctor for professional advice.